While introducing our latest RWM webinar with Re-Gen and SortFlow, circularity expert Dr David Greenfield outlined the evolution of waste streams:
In 1892, over 80% of household waste was ash. Victorians often burnt objects at home before anything was collected. Since then, the introduction of new materials and waste management practices have meant that waste streams are far less consistent.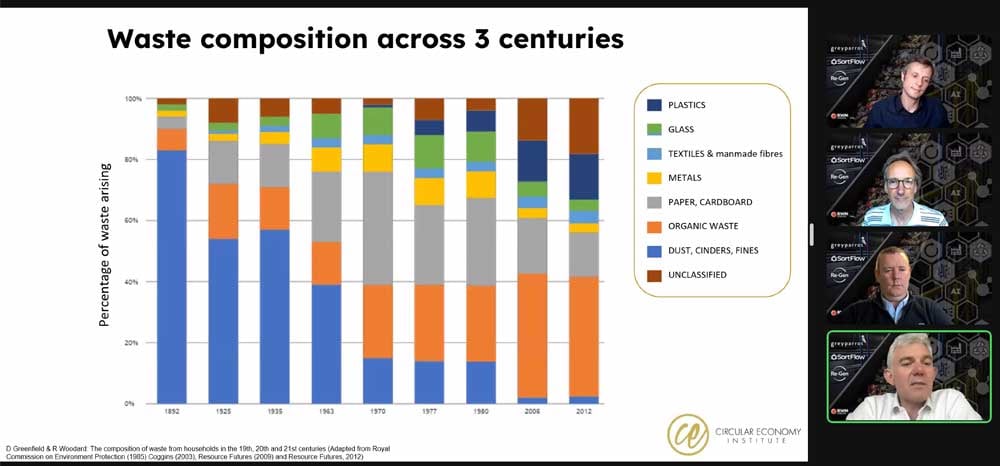 Recovery facilities have struggled to automate processes in response. Many core operations like sampling, product purity assessments and machinery adjustments are still manual. Operational complexity hasn't mirrored increasingly complex waste composition — until now.
RWM's webinar was a chance to hear from the people using AI to bring recovery technology up to speed. Experts from Re-Gen and SortFlow shared how they use AI waste analytics to optimise sorting processes, automatically track product quality and value, and transform the way plant operators understand their operations.
As Re-Gen's Chief Information Officer Conor Mc Cooey put it, arming waste professionals with accurate facility data is the difference between being "driving instructors, rather than chauffeurs".
Read the full article on Greyparrot's website: Case study: How Re-Gen and SortFlow are shaping the recovery plant of the future with AI
https://sortflow.com/wp-content/uploads/2023/06/SortFlow-AI-Greyparroy-Re-Gen.jpg
819
1400
Luc Mallinger
https://sortflow.com/wp-content/uploads/2022/10/SortFlow-1.png
Luc Mallinger
2023-06-29 09:28:05
2023-06-29 09:49:08
Case study: How Re-Gen and SortFlow are shaping the recovery plant of the future with AI